Technology that transforms the patient access workflow
Whether or not patients say it, there's a good chance they're worried about affording the care they need. Fortunately, there's also a good chance they qualify for financial assistance and other access services—and with AssistPoint®, healthcare provider organizations can make the most of these resources for their patients and their organization.
AssistPoint is a software platform that helps healthcare provider organizations proactively identify and manage financial assistance and other access services for eligible patients. Think of it as a one-stop shop for all patient access needs.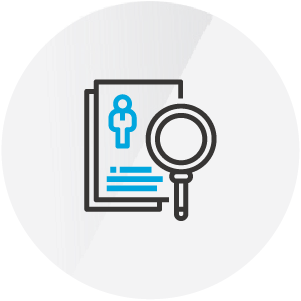 Search
At the click of a button, rapidly search our comprehensive library of assistance options.
Enroll
Quickly apply and enroll eligible patients into individual assistance opportunities.
Track
Actively monitor award fulfillment to ensure utilization and adherence.
Analyze
Stay on top of all activities related to patient assistance within your organization via a comprehensive suite of reports—available real time.
Streamline the process for managing patient access
AssistPoint seamlessly integrates with practice management systems and can be integrated with electronic health records, pharmacy management systems, and patient support programs offered by life science companies and charitable foundations. This connectivity minimizes cumbersome manual processes and allows healthcare provider organizations to work within an integrated environment to easily and efficiently search for patient assistance opportunities, enroll eligible patients, and manage the fulfillment of services.
For digitally integrated patient support programs, enrollment is completed through our standardized form that is automatically prepopulated with patient demographic information from the practice management system. AssistPoint also enables tracking of financial award activity and offers a variety of reports to analyze patient assistance data—all within a single platform.
Finding assistance programs for our patients takes 10 seconds with AssistPoint, as opposed to 2 hours with our old, reactive approach.
—Tonia, Billing Office Manager
Feature highlights
Search Wizard: intelligently engineered to quickly identify assistance for all patients
After automatically pulling patient demographic information, diagnoses, and insurance details from the practice management system, AssistPoint searches thousands of programs to identify all assistance opportunities that may be available for a patient. The results are presented in a simple, yet detailed color-coded format for users to quickly act upon.
Digital Integration: two-way connectivity matters
For our integrated life science and foundation partners, a two-way, secure information exchange (AP Connect®) is created between their patient support programs and AssistPoint, streamlining the application, enrollment, and fulfillment processes. All integrated programs use our standardized digital enrollment form, which is automatically prepopulated with demographic information from the practice management system, eliminating the need for patients to fill out multiple repetitive forms and connecting them to available assistance faster. Furthermore, with digital integration, program communication delays are reduced, award approval notifications are sped up, and healthcare providers can easily provide patients with accurate, up-to-date award balances.
Assistance Watchlist: fund status alerts within 5 minutes
When funds may not be available, patients can be put on the Assistance Watchlist, which will trigger an alert when funds become available. Fund status alerts are sent within 5 minutes of a fund opening up, which saves precious time and enables our users to rapidly secure assistance for their patients.
Case study:
Read about how the AssistPoint Watchlist directly impacted a patient when she thought she was out of options
Payment Automation: assistance award and revenue tracking made easy
Through a standard secure file transfer protocol, Annexus Health is able to populate financial assistance award claims and payment details on a nightly basis. This enables healthcare provider organizations to actively track the utilization of patient assistance awards, as well as revenue, directly within AssistPoint.
AP Analytics®: valuable insights for all key stakeholders
This comprehensive set of 35 on-demand reports easily accessible within AssistPoint empowers healthcare provider organizations—C-suite, management, and users—with the insights they need to improve the process for managing patient access, ensure patients receive all available assistance, and discover opportunities to increase revenue capture.
See AssistPoint in action
Learn how Annexus Health is helping healthcare provider organizations to improve their processes for managing patient access, ensure opportunities for financial assistance aren't overlooked, and discover ways to optimize revenue capture. This presentation introduces Annexus Health; provides an overview of AssistPoint, our single enterprise workflow platform; and explores a key feature within AssistPoint, AP Analytics.
Are you ready to revolutionize the way patient access is managed in your practice?