Technology that transforms the patient access workflow
Whether or not patients say it, there's a good chance they're worried about affording the care they need. Fortunately, there's also a good chance they qualify for financial assistance and other access services—and with AssistPoint®, healthcare provider organizations can make the most of these resources for their patients and their organization.
AssistPoint is a software platform that helps healthcare provider organizations proactively identify and manage financial assistance and other access services for eligible patients. Think of it as a one-stop shop for all patient access needs.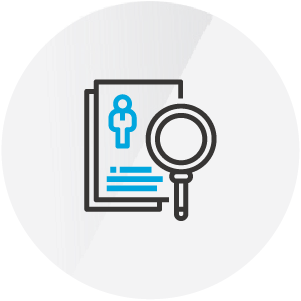 Search
At the click of a button, rapidly search our comprehensive library of assistance options.
Enroll
Quickly apply and enroll eligible patients into individual assistance opportunities.
Track
Actively monitor award fulfillment to ensure utilization and adherence.
Analyze
Stay on top of all activities related to patient assistance within your organization via a comprehensive suite of reports—available real time.
Streamline the process for managing patient access
AssistPoint seamlessly integrates with practice management systems and can be integrated with electronic health records, pharmacy management systems, and patient support programs offered by life science companies and charitable foundations. This connectivity minimizes cumbersome manual processes and allows healthcare provider organizations to work within an integrated environment to easily and efficiently search for patient assistance opportunities, enroll eligible patients, and manage the fulfillment of services.
For digitally integrated patient support programs, enrollment is completed through our standardized form that is automatically prepopulated with patient demographic information from the practice management system. AssistPoint also enables tracking of financial award activity and offers a variety of reports to analyze patient assistance data—all within a single platform.
Finding assistance programs for our patients takes 10 seconds with AssistPoint, as opposed to 2 hours with our old, reactive approach.
—Tonia, Billing Office Manager
Make care more accessible and affordable
Making sure patients receive available assistance helps ensure they get the course of treatment intended for them while lowering the chance they'll experience financial hardship.
Increase revenue capture
AssistPoint supports healthcare provider organizations' patients and their bottom line: when eligible patients are connected with resources to help them afford treatment, fewer medical bills go unpaid.
Key features
Search Wizard
Because AssistPoint is integrated with the practice management system, a patient's demographic information, diagnosis, and insurance details are populated automatically to quickly conduct a comprehensive, customized search of thousands of assistance opportunities offered by life science organizations and charitable foundations.
Digital Enrollment
For our growing list of patient support programs from our integrated life science and charitable foundation partners, AssistPoint uses our standardized digital enrollment form. A majority of the fields are then prepopulated with information that flows directly from the practice management system to streamline and simplify the enrollment process, which minimizes errors and saves valuable time.
Assistance Watchlist
Patients who are awaiting available assistance opportunities can be added to the Watchlist, which sends alerts to healthcare provider organizations within 5 minutes of a fund opening up, saving precious time. This feature also makes it possible to skip the search process and click directly on "Apply" to enroll eligible patients as quickly as possible.
Case study:
Read about how the AssistPoint Watchlist directly impacted a patient when she thought she was out of options
Payment Automation
Healthcare provider organizations can easily keep track of financial assistance claims, payment, and revenue through daily updates on the balance of co-pay awards.
AP Analytics®
This comprehensive set of on-demand reports included within AssistPoint empowers healthcare provider organizations with the insights they need to improve the process for managing patient access, ensure patients receive all available assistance, discover opportunities to increase revenue capture, and more.
See AssistPoint in action
Learn how Annexus Health is helping healthcare provider organizations to improve their processes for managing patient access, ensure opportunities for financial assistance aren't overlooked, and discover ways to optimize revenue capture. This presentation introduces Annexus Health; provides an overview of AssistPoint, our single enterprise workflow platform; and explores a key feature within AssistPoint, AP Analytics.
Are you ready to revolutionize the way patient access is managed in your practice?